At WooElse, we propose a different approach to accompanying technological disruptions.
We truly believe in the human potential as fuel of innovation and forward thinking.
WooElse, is a people and challenge-driven consulting and educational company which acts in the areas of Digital Transformations, Strategic repositioning, Marketing, Change and Adaptive Leadership in the Digital era.
We accompany people and firms of all sizes and horizons in their transformational and educational initiatives, whether they need to revamp their marketing speech, or develop knowledge and capabilities digital thinking or digital transformation related matters.
Rooted in our passion for people, learning and innovation,
Our mission is to spur your transforming the way you engage into your business and people problematics through the sharpening of your strategic impact and the development of the knowledge capabilities that enable it.
Our moto: Empower people to enable change to happen.
Our DNA is nurtured by the fascinating power of emotions and technologies, and aims at enhancing interactions between knowledge, know-how and awareness.
We propose a different approach to accompanying transformations, engraining the needs of the individuals, the emotionalities and our marketing expertise in the heart of the transformational strategy.
Our inspirational involvements spread from consulting to education, smoothly bridging the 2 disciplines into a complete solution that makes sense for people and business.
We aim at providing a complete set of tools.


We can help you your strategy, market or product positioning, your brand promise and co-design your company identity wheel that makes sense in the digital ecosystem.


Value proposition and brand recognition in the digital era
Through thematic workshops that we co-define, we propose a unique way to design, write and develop with you the story of your brand and/or your products to enable a true shift towards core values of digital experience and augmented product enablement.


Taken out is the best practices of the Sillicon Valley, and digital best practices, we have unique way to tackle the product cycle.
Depending on your needs, our services can range from a simple product documentation refinement up to complete accompaniment of the product cycle process.


Organisational ambidexterity and Transformational Leadership
We can help you transform your culture in order to gain organisational ambidexterity, surf the wave of the technological revolutions and spur new standards of collaborations.
Our key to success ? Develop adaptive leadership practices that enables endogenous change empowerment.      
Major corporations will  a true digital culture, while start ups and scale up will gain in matrix understanding and respond more appropriately to corporative constraints for enhanced collaboration, open-innovation or cross-innovation initiatives.
Transform forward-thinking into a workable business solution is critical to any organisation, whatever its size, the maturity of the product or the business model.
TRAINING AND EXECUTIVE PROGRAMMES
Digital understanding, knowledge, know-how for a successful approach to transformational empowerment.
On Demand Executive training programmes
Give us you need, we can build a programme that reponds to it!
Thanks to our range of capabilities coupled with our network, at WooElse, we can merely answer any need you have in terms of training, coaching and thematic workshops, whether you are a startup, or a major corporation.
Our differentiator? Our passion for continuous learning and innovation.
Digital Transformations and disruptive innovations
Digital business models and Marketing strategy
Innovative Finance and real options financing
Integrated Marketing and value proposition in the digital environment
Product marketing and augmented experience in digital envrionment
Adaptive leadership and collective intelligence
Emotional intelligence and Leadership 4.0
Our trainings offer a unique approach to Executive learning as it gathers grounded theory and case studies, both taken from the academic and the professional worlds and are truly interactive for an enhanced sharing experience.
We can also easily insert a module of a bigger programme that you run to complete the knowledge on a specific area.
Value proposition and sales pitch
Product development cycle
Transformational Leadership
Organizational ambidexterity
Course definition and development
Cyrille Comole-Theveniaud, Expert in the field of Digital Transformations, Market repositioning and adaptive leadership, spends 50% of her time exchanging, gathering information, researching and sharing her expertise to the academic environment.
Upon demand and need, Cyrille can define, create and develop courses in any fields related to emerging technologies and digital transformations.
She teaches courses in Digital Transformation, Emerging Technologies, Communications & Change Management, that she has created and developed since 2012 for Master Students and Executive programmes in several Business and Engineering Schools as well as Universities.
Her footprint? bring a differentiated approach to collaborating and communicating, based on her research on the role of emotionalities in times of disruptions.
Her successes? Enhance emotional awareness, and profoundly transform the way we understand tomorrow's business. At WooElse we truly believe that the academic and the professional worlds have a lot to bring to each other.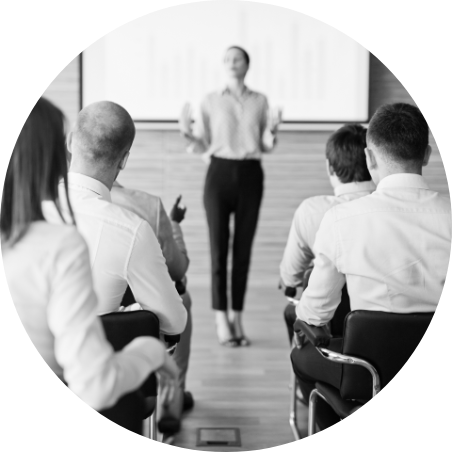 Want to develop transformational skills? Propel your organisation into the
future now ?
Please check one of our partners institutions' executive programmes on
digital transformation, data sciences or transformational leadership.
Innovative Programme of the month :
Do you want to gain Transformational Leadership and Digital Agility?
Join the 3,5 days Executive programme on Digital Transformations and Data Sciences from the University of Nice Côte d'Azur.
2 sessions held in July and September. Limited places.

Do you want to know more?
For more information on what WooElse can bring to your organization, if you want to build a programme specific to your needs, or develop transformational leadership capabilities, please contact us at: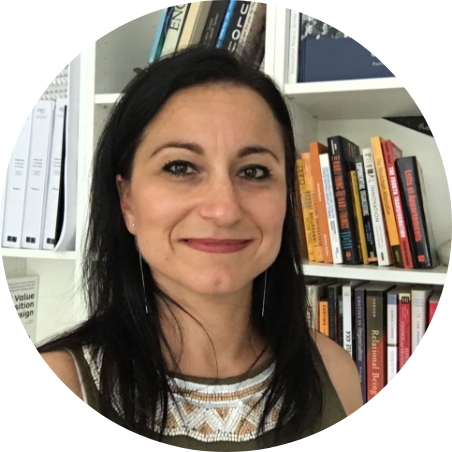 Advisor to small and large firms, as well as building and teaching in educational programmes on Digital Transformations, Cyrille works as an Expert in the fields of Marketing, Communications, Transformations in the Digital arena.
Cyrille brings over 20 years of experience within major corporations, where she played a major role in Marketing and Communication shifts, market positioning, data related opportunities, culture change as well as change readiness and digital transformation, supporting V and C levels in their Marketing and Transformational problematics. She leverages different a approach to transformations, embedding the needs of the individuals, addressing the emotions, and applying her marketing expertise at the heart of the change strategy.
On top of her role of Marketing and Transformation Expert, Cyrille also teaches courses in Communication & Change Management as well as Digital Transformations, that she has created and developed since 2012 for Executive and Master students in several Business Schools and Universities (Edhec, MBS, Skema, Université Côte d'Azur) – both in French and in English.
Passionate about education and learning, Cyrille holds a BA in Business Studies from De Montfort University, a MSc in International Business and Strategic Marketing from Montpellier Business School, a MBA from the University of Westminster and a Specialised Master in Change Management, which is a double diploma from HEC and the University of Oxford.